Its T-34 hours to my flight to Venezuela. This years vacation will be great. I will visit my wifes family in Venezuela, Merida the second time. And this time we will visit as three with our little 3 months old son Luciano. 4 weeks of chilling and hanging around, visiting people and enjoy the sun and meet nice easy going people in Merida and around. And short before this my "old" Canon Powershot camera died. E18 error at the display – i hate stuff that breaks short time after the warranty limit was reached. If you dont know what the E18 error at a Canon camera is – google for it. Its quite common problem with the optical mechanic system. And there is not really a way to repair this for some bugs.Actualy this camera problem comes right in time as the key driver to buy a new better camera (which I had already in mind for more than one year now). I investigated the customer report portals and it results into an Canon (yes Canon again) EOS 400D.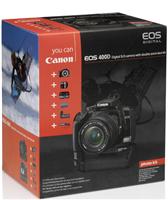 Here in Germany they sell this digital 10Mpixel SLR camera also a bundle with a normal lens, a tele lens and and external battery compartment for just 819 Euros. That is a damn good price for this package.
So you can definetly expect very good Venezuela pictures coming up here during the next four weeks. Keep an eye on this page for Venezuela pics.